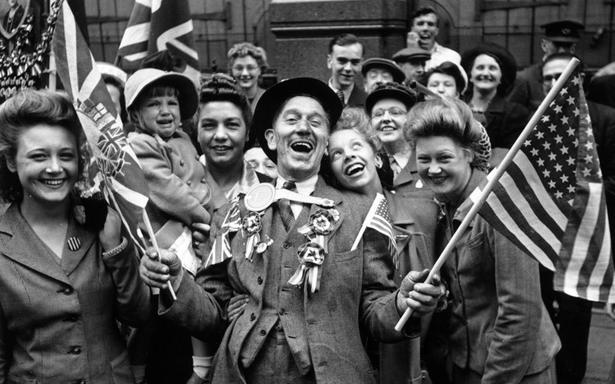 Step inside the key moments of one of history's most important war dates, ahead of its 75th anniversary
VE DAY: MINUTE BY MINUTE
Producer Woodcut Media
Distributor TVF International
Length 1 x 60 minutes
Broadcaster Discovery (UK)
Victory in Europe (VE) Day – 8 May 1945 – remains long in the memory of all those who witnessed it. It meant an end to nearly six years of a war that had cost the lives of millions; had destroyed homes, families and cities; and had brought huge suffering and privations to the populations of entire countries.
The 75th anniversary of VE day marks an opportunity to hear from those who were there. Woodcut Media's 60-minute special for Discovery guides us through events as they took place across the world.
"We have a story that is upbeat and celebrates peace rather than agonising over conflict"
"What makes it extra special is that those people are in their nineties or over 100 years old and giving first-hand testimony of one of the most extraordinary days of the 20th century," says TVF International (TVFI) head of acquisitions Will Stapley.
"The Second World War was the most devastating conflict in modern global history, but it's apt that at this particular time, we have a story that is upbeat and celebrating peace rather than looking back and agonising over conflict."
Given the extent to which the events had an impact on the world, the producers have gone to great lengths to tell the story as it unfolded across North America, Asia and Europe. Archive footage has been sourced from national libraries, local collections, the Imperial War Museum and home movies shot by amateurs on the day.
Unseen footage
"A lot has never been seen before," says Stapley. "It shows the armed forces and street parties recorded by ordinary people. You get a real sense of relief and joy from people who have just picked up a camera that perhaps wouldn't be captured by a professional film crew."
As well as finding unique material and valuable testimonies, the version TVF is pre-selling, which will air on Discovery, features presenter Tony Robinson blended into some of the archive. In one clip, he is seen commentating on proceedings alongside the royal family as if from the balcony of Buckingham Palace in 1945.
"Putting Tony Robinson into the story in this way helps audiences to experience the events," notes Stapley. "Rather than a stale to-camera piece, which we've seen dozens of times, this concept makes the archive much more intimate and immersive, so you feel as if you are there."
On top of that, the story is told chronologically over the 24-hour period of VE Day, creating many logistical challenges for the production team.
"Europe began celebrating as the news broke on 7 May but VE Day in New Zealand and the Soviet Union was on 9 May due to the different time zones, which entailed a lot of careful planning to make the 'minute-by-minute' narrative of the production accurate," he adds.
Stapley says TVFI is scheduling conference and video calls with every buyer they planned to meet at markets and are also arranging trips in March, April and May – coronavirus permitting.
"We had a bigger February Showcase in London than ever and one of our managers just got back from the Australian International Documentary Conference," he says. "So we are in constant contact with all our buyers and producers despite Mip TV being cancelled."