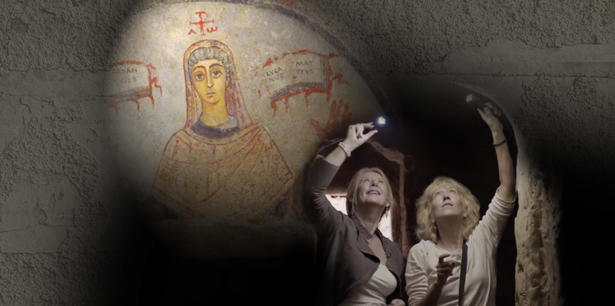 TVF International has closed a raft of new deals with its partners in the global educational market.
The independent distributor is working with North America's Films Media Group to bring over 50-hours of new titles to schools and universities in the territories, including a pre-sale for Grifa Films-produced philosophy series, Critical Thinkers (13x30'). Other titles include Channel NewsAsia's Algorithms: How They Rule Our World (2x47'), Channel 4's Jesus' Female Disciples (1x47'), Delacroix: From Paris to Morocco (1x90'), RTE's Awake: The Secrets of Sleep (1x60') and Vogue Williams Investigates (13x52'),NHK's A Century on Film (6x60'), BBC Storyville's Accidental Anarchist, BAFTA-award winning BBC journalist Mobeen Azhar's Power and Piety (5x60') and pop-science series The Big Idea (8x30').
Films Media Group also acquired VR title Climbing Everest, alongside three new slates of programming from TVF International's partner, The Institute of Art and Ideas, the group behind Europe's largest festival of philosophy and music. The slates feature debates on feminism, big data, and artificial intelligence and join 85 hours of debates previously licensed by TVF.
Programming from the Institute of Art and Ideas was also acquired by Israeli educational service Movie-Discovery and global educational content platform BoClips, alongside global anthropology series Grand Earth (6x44'). Meanwhile, Movie-Discovery licensed over 100 hours of science and lifestyle titles for distribution to public libraries and schools.
Alexander Street Press picked up 45 hours of programming on anthropology, environmental issues, LGBTQ studies and immigration, while Sage Publications licensed a number of BBC documentaries including Antidote's BBC3 doc, Professor Green's Suicide and Me (1x59'). TVF International also closed a deal with Clickview to bring History documentary series Sean Bean on Waterloo (2x60') to British classrooms, and is taking its catalogue to Scandinavian schools through deals with Kunskaps Media, NorgesFilm and Filmo. Titles included in the deals are short form space series Cosmic Journeys (18x1-20'), BBC doc Mechanical Monsters, tech series Futureproof (8x24'), Attitude's mental health series In My Mind (15x29'), and investigative doc Nicotine Kids (1x46').
Sam Joyce, Educational Sales Executive at TVF International, said: 'As the world's leading distributor of high-end specialist factual programming, TVF is a natural partner for educational platforms around the world. All over the planet, students are discovering the quality of TVF International's documentaries through our esteemed platform partners who use our films to help learners meet their educational goals. By diversifying our deal-making approaches, and partnering with educational content providers working at each step of funding, production and content delivery, we have enjoyed growing success in this market. This is a rapidly expanding and hugely rewarding area of our business, and one which fits perfectly with what TVF International is all about – high quality programming that both educates and entertains.'