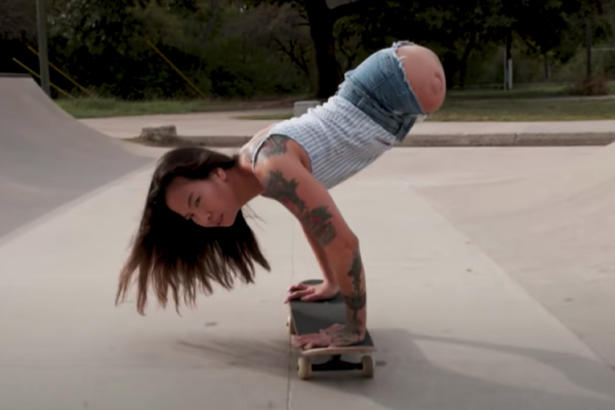 London-based distributor TVF International and Future Studios, the content production arm of print and online publisher Future PLC, are shopping an inspirational factual series at MIPCOM that will soon make its debut on Warner Bros. Discovery platforms in multiple territories.
Unbelievable Me (10 x 45 min.) showcases stories of people afflicted with severe illnesses and medical conditions who have not allowed these disabilities to dominate their lives. Subjects include Kanya Sesser (pictured), who has become an avid skateboarder despite being born without legs; Nick Smith, who has a rare case of dwarfism that makes him one of the smallest men in the world; and Italian Paralympic medalist Veronica Plebani, who has had severe scarring and impairment on her arms and legs from an acute case of meningitis.
The series was produced by Future Studios in partnership with Warner Bros. Discovery, which will premiere it on both its linear channels and Discovery+ in the UK, Germany, Benelux, Italy, Latin America and Poland. TVF International and Future Studios will be showcasing the title to other international buyers at the Cannes market this week.
"We're thrilled to be partnering with Future and TVF on this fantastic series celebrating difference and diversity through a medical lens," said Andreas Lemos, director of international content at Warner Bros. Discovery. "Its uplifting, positive tone sits perfectly with our brilliant pipeline of commissioned medical content, and it was great to be able to calibrate the stories to the requirements of our markets, creating a truly international piece."
"We have spent years being trusted by people to make films for our digital channels, and are very proud to be producing a television series that will allow a brand new audience to get to know these amazing characters and their moving stories," added Peter Wyles, director of programs at Future Studios. "With our experience and trust in this world, this is a series that we hope to be making for many years to come."
Previous medical-themed titles from Future Studios include Two Sisters, One Body for Channel 4, about conjoined twins Carmen and Lupita Andrade, a long-form commission that was developed from a story first featured on Future's digital channels.
Wyles is executive producer on Unbelievable Me, with Scott Ward serving as series producer.
Photo by Trent Wittenbach