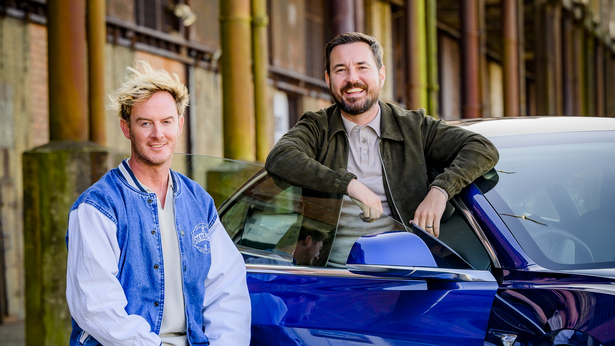 'Martin and Phil are rediscovering Scotland as they've never known it before, as is the viewer'
Distributor TVF International
Producers Tern TV
Length 6 x 30 minutes
Broadcaster BBC2 (UK)
On hearing that Line Of Duty actor Martin Compston was turning his hand to presenting, with a travel show set in his native Scotland, most people would imagine that kilts, bagpipes and whisky distilleries would feature heavily.
But TVF International distribution executive Poppy McAlister says Martin Compston's Scottish Fling is "not your traditional kind of travelogue – it isn't looking at the kind of typical tweed and tartan heritage, it's much more about showcasing modern Scotland".
To that end, Compston and co-host and friend Phil MacHugh encounter varied contributors including RuPaul's Drag Race UK winner Lawrence Chaney, Zahrah Mahmood (better known as Instagram influencer The Hillwalking Hijabi) and Ousama Al Nakeeb, a Syrian refugee who now runs a barbers in Stornoway.
"Martin and Phil are rediscovering Scotland as they've never known it before, as is the viewer," McAlister says.
Compston himself is a major draw for the show and another point of difference to the myriad other travelogues. "He's got star quality and Line Of Duty is watched by hundreds of millions of people across the globe," she notes. "Though Martin now lives in LA, he has that authenticity and is the right fit for exploring modern Scotland."
Producer Tern TV is also a plus, with TVFI counting more than 50 hours of the indie's programming in its catalogue. "They make really high-quality factual series that are simultaneously entertaining and moving," McAlister says.
"UK-hosted travel series are gold dust – they're always a hit with international broadcasters." There remains, post-pandemic, an appetite for "comfort watches", particularly those with a travel angle, she adds.
While TVFI isn't ruling out streamers, McAlister says the series is more likely to sit comfortably on linear or public service broadcasters.
She's also optimistic about a second series, potentially with Compston moving on to explore other areas, such as his new home city, LA.