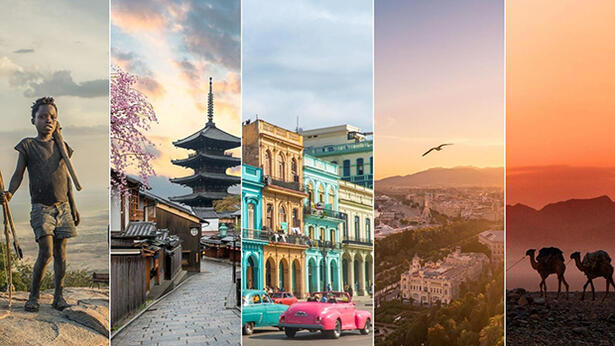 The evolution of the Central and Eastern European region as a source of factual content for the international market.
TVF International has long differentiated itself by its global approach to factual distribution, both selling and acquiring programming from every corner of the world, with strong catalogue footprints from top Asian, Latin American and African producers, alongside our traditional strongholds in the Anglosphere.
As a source of programming, the Central and Eastern European (CEE) region has steadily grown in importance to TVF over the past decade – with a record 10% of our new programming acquired from CEE in this past year.
These shows are spread across genres such as premium history, crime, travel, arts and world affairs. Many are marked by either clear international commercial appeal or their ability to marshal strong regional specificity towards saleability in the global marketplace.
TVF's top-performing titles include Europe's longest-running travel series, No Luggage, produced for Bulgarian broadcasters Diema and BTV, which has been sold into 42 territories, finding a global audience across four continents.
TVF's growth in CEE coincides with a period of increasing production investment in the region. Last year, Netflix opened its first office in Poland as a hub for managing its local productions, following several years of increasing investment in the country. Additionally, SkyShowtime – the European streaming juggernaut that brings together the combined weight of Paramount and Comcast – has similarly just announced its first-run acquisition of several locally produced series from Warner Bros Discovery.
While providing local stories for local audiences via production investment in emerging markets makes natural sense for streamers, the region offers different opportunities to distribution outfits looking to take regionally situated independent producers international.
One of the shows TVF coproduced from the region last year was Salme: Ancient Viking Burial Ships (2×52'). This miniseries was a project originally commissioned for ERR, the Estonian public broadcaster.
Working collaboratively, TVF helped transform the original four-part series into an internationally sellable English-language show that uses high-end dramatic reconstructions of Viking battles and voyages to explain how an unprecedented archaeological discovery in Estonia tells a wider story that complicates our understanding of trade in Viking-era Europe and beyond. Just a few months after its release, the series has already landed placements with A&E/History Channel, Viasat History and YLE in Finland.
Elsewhere, TVF acquired history doc The Long Road to War (1×120'/2×48'), a Serbian production about the beginning of the First World War in the Balkan states. The documentary trended in Netflix's top 10 upon its initial release and has since gone on to find homes with broadcasters including PCCW's Hong Kong-based streamer NowTV, PBS America in the UK and CCTV in China.
But it is not just local approaches to perennially popular factual topics like the world wars and Vikings that have the capacity to travel outside the region. The region's long history of artistic excellence and strong craft means productions can carry high production values on limited budgets. This combination can allow authentically told local stories to break out internationally.
Consider, for example, both seasons of Slumbering Concrete (4×52') from Croatian pubcaster HRT and Hulahop, a Zagreb-based production company that primarily specialises in feature docs. This artfully told series, with a droning score, cerebral pacing and stunning cinematography, captures abandoned brutalist architecture from the Yugoslavian era and exposes the lost social, political and artistic dreams that the buildings reflect, while considering innovative ways to revitalise these spaces for the modern, post-socialist era.
The production of the series, which carries such a deep sense of place and history, has allowed the show to travel as far afield as Sweden and the Netherlands, with deals for more international homes to close soon.
As the industry focuses on this week's Sunny Side of the Doc, TVF is also looking forward to attending ExOriente, a satellite event from Prague's Institute of Documentary Film. The event focuses on the craft and graft of producing high-end factual series while facilitating a bridge between Eastern European producers and the global landscape of commissioners, buyers and distributors.
Events such as this are vital to develop productions in all regions of the world, and we look forward to another successful year of collaboration and growth.