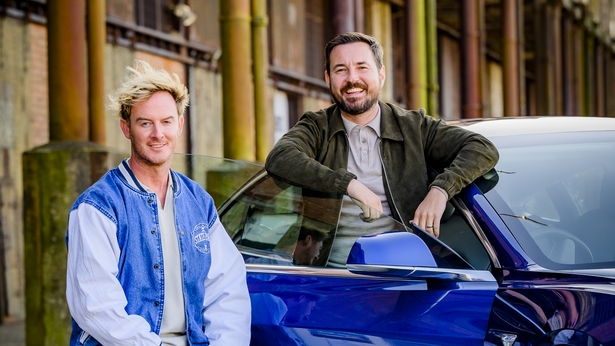 TVF International has closed a raft of deals with broadcasters and platforms across the Nordic region, including BritBox International, Sweden's UR and TV4, Finland's MTV Oy and Yle, Denmark's DR and more.
BritBox International picked up two BBC-commissioned titles for the region, including the celebrity-led travelogue series Martin Compston's Scottish Fling, which sees the eponymous Line of Duty star travel around Scotland to showcase what the country has to offer.
BritBox International also acquired Quentin Blake: The Drawing of My Life, produced by Wingspan Production.
In Sweden, UR bought a package of titles that includes Eco-Heroines, following leading conservationists around the world on a mission to save a local species from extinction, as well as Infernal Paradise and Good Grief.
Also in Sweden, Axess Publishing picked up Slumbering Concrete, uncovering the stories behind some of Eastern Europe's most unique modernist architecture, and The Faces of History, from the creators of The Traitors format.
Sweden's TV4 and Finland's MTV Oy secured the rights to Extreme Road Rescue, a Channel 5-commissioned series following the men and women who come to the rescue when extreme weather hits the U.K.
Finnish pubcaster Yle took the rights for Salme Vikings: Ancient Viking Burial Ships, a miniseries investigating the mystery of two 1,300-year-old burial ships from the Viking Age. Viasat World picked up the pay-TV and VOD rights to the series for Viasat History across the rest of Scandinavia and Eastern Europe.
In Denmark, DR acquired Dun Huang: Ancient Frontier Fortress, charting the rise and fall of the ancient city Dun Huang, today a UN World Heritage site equal in importance to the Pyramids of Egypt. The broadcaster also took the rights for the BBC-commissioned Super Telescope looking at the launch of the James Webb telescope. TV2 Denmark, meanwhile, opted for Constantine: A King's Story and Inside Buckingham Palace.
The Why Foundation, a Danish human rights nonprofit, licensed worldwide rights for Ximei, an award-winning film that tells the story of a young peasant woman who contacted AIDS during China's "Black Blood Economy," a 1990s government-sponsored campaign that aimed to monetize the blood of its peasants.
"We are seeing record-breaking results across the Nordics this year," said Eve Rawlings, sales executive for Scandinavia at TVF International, who brokered all the deals. "Our strong sales in the territory are evidence of TVF's commitment to fulfilling the demand in Scandinavia for premium factual content."