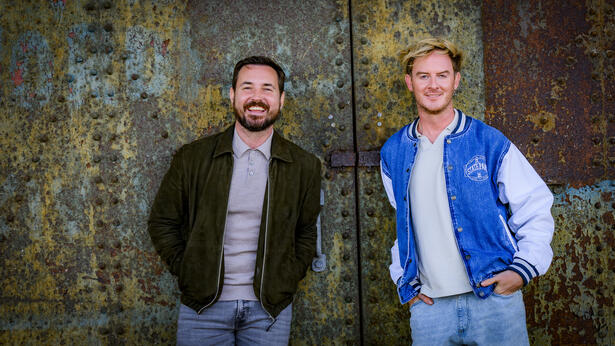 Travelogues lead 20-hour slate of recommissions for Tern TV
Zinc label Tern TV has secured 20 hours of recommissions from BBC Scotland, including second series of travelogues fronted by Martin Compston and Ben Fogle.
In a follow-up to Martin Compston's Scottish Fling, 6 x 30-minute series Martin Compston's Northern Fling follows the Line of Duty actor and his friend Phil MacHugh as they embark on a search for all it means to be from the 'North'. The pair start their adventure in Shetland before travelling the length of Norway to discover what can be learnt from those living in some of the most northern parts of the world.
The series was commissioned by Clare Mottershead, lead commissioning editor of factual entertainment and events, and BBC Scotland commissioning editor Steve Allen. David Marshall is executive producer and Allanah Langstaff is series producer. It is distributed by TVF International and will TX on BBC Scotland, BBC2 and iPlayer later this year.
Ben Fogle will continue his exploration of Scotland's Sacred Islands in a second 4 x 60-minute series. The presenter will once again examine the connection between stunning landscapes and spiritual belief across several beautiful islands. Using drone footage, Fogle will meet locals on each island he visits and learn how the island's unique religious history is woven through the community today, while exploring what it is about each island that makes it a place of spirituality and sanctuary.
Scotland's Sacred Islands with Ben Fogle was commissioned by Daisy Scalchi, head of religion and ethics TV, and Steve Allen at BBC Scotland. Harry Bell exec produces, while Craig Collinson serves as series producer. DCD Rights handles distribution. It will air on BBC1, BBC Scotland and iPlayer later this year.
Allen said that both series provide a hit with audiences, with each offering viewers something different.
He said: "Martin and Phil's irrepressible sense of fun, based on their solid friendship, delighted viewers as they travelled across Scotland, while Ben's serenity as he took a spiritual island tour, with the backdrop of fantastic scenery, engaged people in a different way, but again was very much taken to viewers' hearts."
Marshall said that making series in which talent "does counterintuitive things" is what the label is known for and that both Compston and Fogle are able to "disarm contributors and make audiences feel they are part of their adventures".
Bell added: "Tern's strength is in bringing nations stories to the network, as well as marrying top talent with their passions - so these commissions sit perfectly in our sweet spot."
The Glasgow-based indie is also returning to Beechgrove Garden for a 46th series. The 26 x 30-minute run will air on BBC2 and BBC Scotland, with presenters Carole Baxter, George Anderson, Brian Cunningham, Calum Clunie, Kirsty Wilson, Diana Yates and Lizzie Schofield offering tips and hands-on gardening advice from the company's specially designed studio garden.