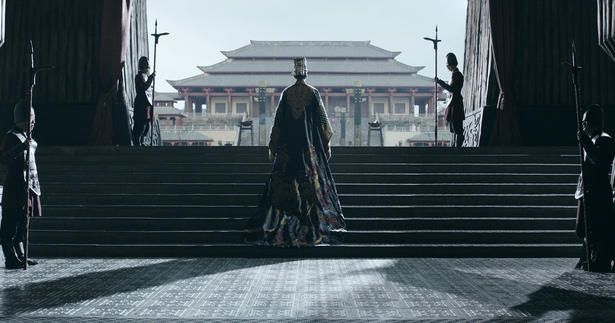 TVF International has closed a raft of deals in South Korea for programs in its specialist-factual catalog.
Through a new partnership with Educational Broadcasting System (EBS), TVF International will distribute the worldwide rights to Anthropocene, a three-part science series exploring the Earth's new geological epoch, and the two-parter China's Dragon Emperor, a Smithsonian and EBS co-production that brings to life the story of the first emperor of a united China. TVF International partnered with Mountain TV on South Africa from Above, which takes viewers on an aerial journey across the nation.
KBS has acquired several documentaries for its "Public Media Worldwide" slot, which showcases the best pubcaster documentaries from around the world. The public broadcaster has picked up Fake News, the Ian Hislop-fronted BBC history documentary produced by Wingspan Production, as the inaugural program for this new strand. Other TVF titles slated to appear are ABC Art's You See Monsters and Mother, Father Deaf, commissioned by RTE.
TVF International also closed an agreement with the educational public broadcaster EBS to bring seasons 10 and 11 of The World From Above to the network. The network licensed Discovery's 2020 anniversary documentary, VE Day: Minute by Minute, produced by Woodcut Media, as well.
Further, A&E History acquired the rights to North Korea's Nuclear Bomb, produced for Channel News Asia's "The Asian Century" strand. Eight episodes of the NHK wildlife series Animal Instincts are headed to the pay-TV broadcaster YTN Science. Arte-commissioned Isles of The Queen was picked up by JCG Media Rights. And cable network MBN acquired 38 hours of the fishing series Big Angry Fish, produced by New Zealand's Mediaworks. Lian Contents facilitated the deal and also picked up DIEMA's long-running travel series No Luggage.
All sales were brokered by Samuel Joyce, senior sales executive, who said: "These recent sales in South Korea show TVF's position as a trusted provider of quality international factual in the territory. With unpredictable changes happening to many channel's production schedules we are pleased to be able to assist broadcasters by providing stand-out one-offs alongside popular factual series that fit seamlessly into schedules in this highly competitive broadcast market. We are thrilled to bring these films and shows from our leading European and Asian production partners to such esteemed homes in Korea."