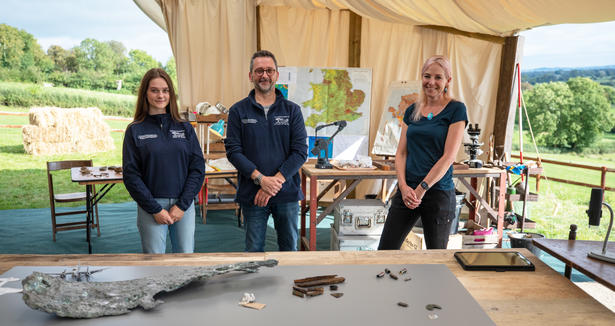 Indie distributor TVF International has revealed its winter slate ahead of the company's London Screenings showcase event, which will be held on March 1 with a focus on science, history and specialist factual content.
TVFI's history slate includes the Channel 4-commissioned two-part doc Lost Treasure Tombs of the Ancient Maya (2 x 47 min.) from Windfall Films, about the investigation to unearth ancient secrets of the sophisticated yet mysterious civilization with new technology. Another new history title is the NPO series The Faces of History (6 x 40 min.), which brings to life historical figures like Cleopatra and Mary Magdalene through 3D imaging. Finally, the archeology series Digging for Britain (6 x 60 min.) returns for its ninth season.
In the science category for TVFI is Rain: The Untold Story (3 x 60 min., pictured) from Welsh production company Cwmni Da TV, which examines how rain has shaped and destroyed civilizations throughout history. Carbon: The Unauthorised Biography (1 x 89 min. / 1 x 55 min.) from Genepool Productions and Handful of Films tells the story of life's core element, featuring interviews with Neil deGrasse Tyson and Sarah Snook. And RTE's environmental series Eco-Eye: Sustainable Solutions (48 x 25 min.) returns for a new series examining topics like climate-friendly farming.
Also on the TVFI slate is the award-winning feature documentary Ximei: Fighting China's AIDS Scandal (1 x 98 min. / 1 x 52 min.), executive produced by Ai Wei Wei, about AIDS patients who contracted HIV during the "Black Blood Economy" of the 1990s. Meanwhile, the Channel 4 Dispatches special Did Covid Leak from a Lab (1 x 47 min.) joins Channel NewsAsia-commissioned one-offs Video Game Wars: Japan (1 x 48 min.) and One Way: Hong Kong Exodus (1 x 48 min.) on the roster of current affairs titles.
The disability-first prodco Attitude Pictures, with whom TVFI has an exclusive first-look deal, has My Perfect Family (37 x 29 min.) and Being Me (48 x 29 min.), both of which are inspiring, character-driven stories of determination and confidence in the face of adversity. Additionally, the factual entertainment series Down for Love (5 x 46 min.) has had two further episodes greenlit, with the series and format debuting on TVNZ in May.
TVFI will also be bringing a half-dozen selected factual projects in development to market, including the 4K series Australia from Above (4 x 60 min.) from RJ Media.
"We are looking forward to reconnecting in person with our producer and broadcast partners at TVF's London Screenings event," said Will Stapley, TVFI's head of acquisitions and partnerships, in a release. "As well as showcasing our brand-new slate of blue-chip content from across the globe, we will also be offering our producer partners a complimentary wishlist dossier summarizing the international market's specific unscripted needs to help inform and spark content development in partnership with TVF across 2022."