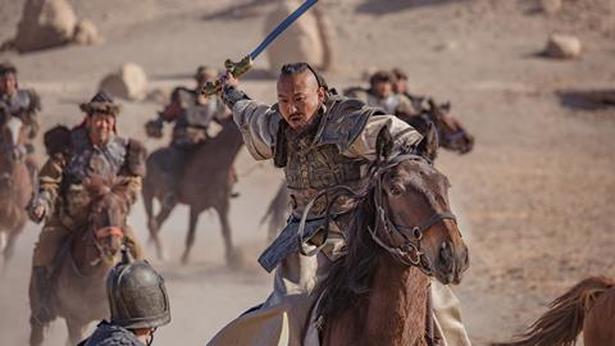 TVF International's Julian Chou-Lambert sees potential for risk-taking, adventure, and possibility for continent's ambitious producers
The upcoming Year of the Tiger should be one of risk-taking, adventure, and possibility. And if Squid Game's success is anything to go by, and with international and regional streamers expanding their presence across Asia, the sky's the limit for the continent's ambitious production houses.
However, with the COVID-19 pandemic still disrupting travel and TV projects across the region, significant challenges remain, especially in factual programming, where politics, censorship and production logistics must be carefully managed. 
This is the landscape Asia's top factual indies are having to navigate alongside shifting political and cultural tides. 
China's 'zero-COVID' approach has isolated the country, making international co-productions tricky, compounded by deteriorating political relations with the West. Ongoing government crackdowns on domestic streamers and censorship have also threatened budgets.
"Blue chip wildlife and especially history co-productions remain popular, as they are less politically sensitive in both China and the West"
However, Beijing's Winter Olympics bring with them the country's first 8K channel, CCTV-8K, and it's hoped that stringent travel restrictions will be relaxed after this Autumn's National Party Congress. Meanwhile, blue chip wildlife and especially history co-productions remain popular, as they are less politically sensitive in both China and the West.
Other topics are also helping China cut through internationally. Alongside several wildlife co-productions with Bili Bili, including The Green Planet, BBC Studios' upcoming five-part series Ancients offers a different view of history, placing ancient Chinese civilisation beside other early cultures including the Romans and Greeks.
Likewise, TVF International-distributed Tencent docudrama Dunhuang: Ancient Frontier Fortress (pictured, top), from regional production house IFA Media's China office, illuminates another untold history, revealing the dramatic events recorded on scrolls in Dunhuang's famous Mogao Caves.
Re-writing modern history, LostPensivos Films' award-winning feature The Six: Titanic's Last Secret, exec-produced by James Cameron, investigates the lives of the Titanic's six Chinese survivors, refused entry to the USA.
The film's release was delayed due to COVID restrictions on cinemas, but the story has found extra resonance today, with the rise in anti-Asian hate crime fuelled by the pandemic. 
Despite travel restrictions, Singapore's top factual producers have leveraged their deep relationships with local and regional indies, providing insightful perspectives on global issues out of reach of Western producers during the pandemic.
IFA's docudrama Asia's Ancient Civilisations, which uncovers the rise and fall of South-East Asia's pre-colonial empires, is hosted by a local expert on the region, Peter Lee, and is complemented by locally produced dramatic animations, making it a refreshing contrast to previous Western-produced series on Asian history. There is no perspiring Western presenter in a linen shirt and Birkenstocks parachuted in here.
A second series is due this year, focusing on Japanese and Korean ancients – territories with easier access during the pandemic. IFA also managed to rework night-time cultural series Midnight Asia for Netflix, by using local producers in each city and switching the focus from large-scale events, which were cancelled, to more personal stories.
Government-owned producer Mediacorp and broadcaster Channel NewsAsia have led ambitious current affairs series, including US & China: When Titans Clash – a deep dive into the relationship between the world's largest superpowers, which has neared boiling point during the pandemic, and forward-looking series Disease Hunters, which showcases leading global researchers trying to prevent the next pandemic, employing high end graphics to bring these nasty diseases to life. On screen, not literally!
Meanwhile, South Korea's government-sponsored Korean Wave – the export of Korean culture across the world – continues apace, with K-drama and K-Pop's momentum feeding into other spheres; while the enduring global success of MBC's format The Masked Singer shows how a wacky original Korean idea can be successfully embraced in local iterations.
In specialist factual, many shows have focused on K-Culture itself, with Netflix bringing in Korean American director Caroline Suh for its first K-pop original BLACKPINK: Light up the Sky, which humanises the individual members of the Korean girl band.
"The incredible quality and diversity of programming on show at this year's Asian Academy Creative Awards show there is already much to toast this Lunar New Year"
Peddling Pictures' series Deciphering South Korea similarly employs a bi-lingual Korean American host, Joi Lee, to dive deeper into the country behind the K-Wave, all filmed during the pandemic as South Korea's restrictions were less severe than other territories.
Meanwhile, Mediacorp's South Korea's Debt Bomb, which unpacks the real issues behind Squid Game, has seen a dramatic resurgence in interest from current affairs channels across the world.
Similarly, Japan's international factual output is benefitting from the popularity and availability of Japanese fare on global streamers, fuelling further interest in the culture and the country's pioneering tech advances.
Public broadcaster NHK has pushed technological boundaries with five-part 8K wildlife series The Mating Game, coproduced with UK-based Silverback Films, filmed across 22 countries during the pandemic and airing on NHK's and partners Discovery+ and the BBC.
The incredible quality and diversity of programming on show at this year's Asian Academy Creative Awards show there is already much to toast this Lunar New Year. And with travel restrictions finally easing, we look forward to physically reconnecting with our friends and colleagues across the world's biggest continent. It may still be risky, but as the Chinese saying goes, 'You must enter the tiger's den to catch his cubs'!
Julian Chou-Lambert is TVF's Acquisitions Manager and Asia Lead. He is also a serving jury member for the Asian Academy Creative Awards